Nonprofit Professionals Alumni Club Scholarship
The Nonprofit Professional club of the CSUF Alumni Association provides a scholarship to one deserving Cal State Fullerton student each year to help support their educational goals and career aspirations in the nonprofit sector. One of the objectives of the NP club is to foster strong links between present and former students and to create opportunities for current students. The Nonprofit Professionals scholarship is one way Cal State Fullerton alumni, who are now nonprofit professionals, can continue to make an impact on present and future Titans.
You can download a description of the scholarship


and a scholarship application form


.
Past Scholarship Recipients
2017 - Amy Brehm '17
  B.S. Human Studies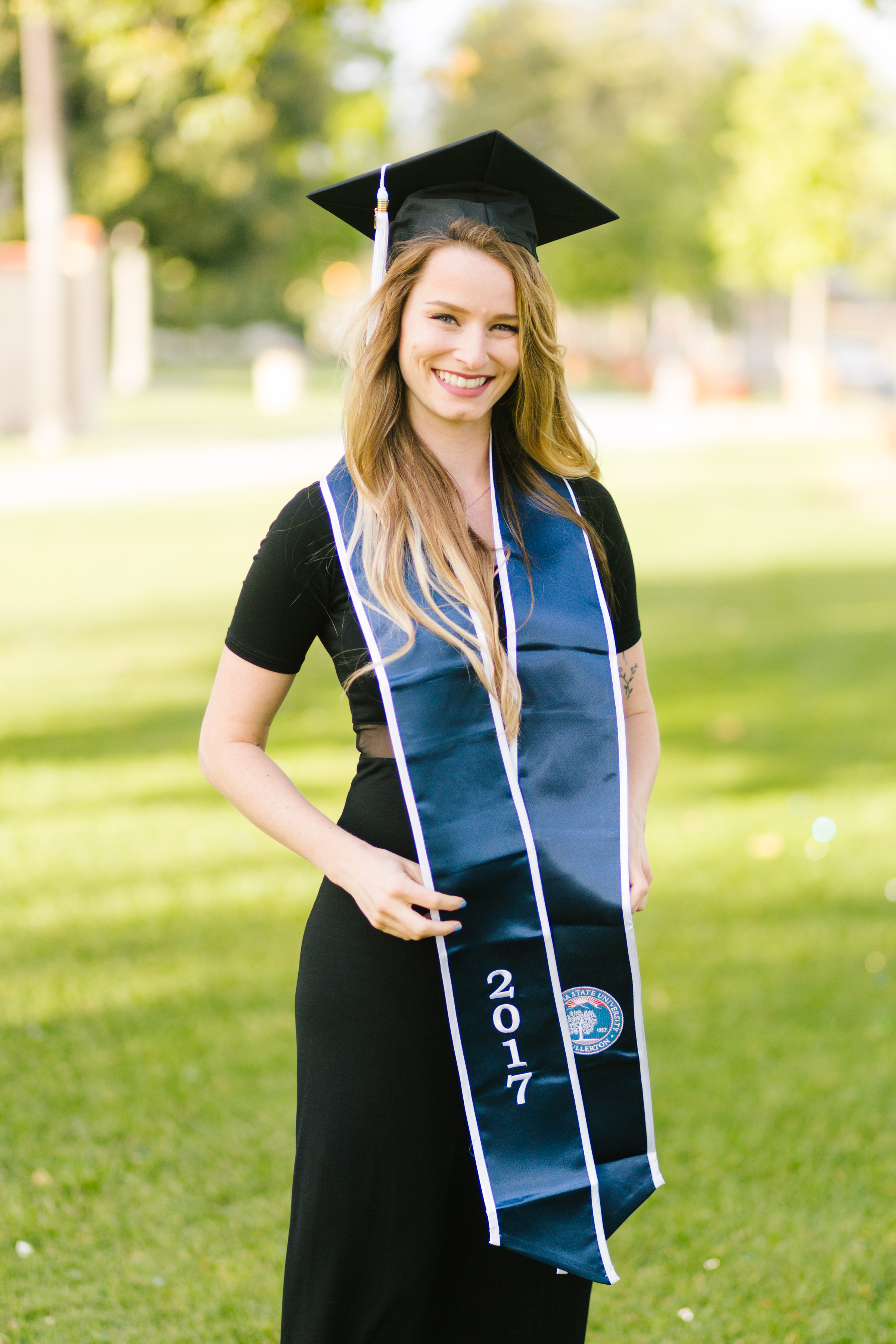 2016 - Claudia Keller '17
Master of Public Administration
"Service is the very purpose of life. It is the rent we pay for living on the planet." -Marian Wright Edelman. One of the purposes of the Nonprofit Professionals Alumni Association is to promote the professional image of the nonprofit sector. We are honored to highlight a key contributor to the community, Claudia Keller, our 2016 NPAA scholarship award recipient. In a mid-career switch, Claudia answered the calling to be a servant leader. She is the Chief Program Officer at LA's Promise. In this capacity she leads LA's Promise's family and community programs and health activities that are coordinated at each school site. She was previously the Executive Director at the American Heart Association in Los Angeles. Claudia is currently enrolled in California State University Fullerton's Masters in Public Administration program and intends to graduate in May 2017. She earned a bachelor of arts in political science with a minor in history from the University of California, Irvine. In addition to supporting her graduate coursework as a re-entry student, she is a single mom supporting her son through his graduate program. Her vision for the future includes starting her own foundation in Orange County called See Jane Run. The organization will encourage young girls to start playing or keep playing organized team sports through middle and high school. Furthermore, she carves out time to volunteer with young people, like undergraduates at CSUF and UCI. Claudia also serves as the co-chair of the Dean's Leadership Society for the School of Social Sciences at UCI and on the advisory board of Kids at the Table in South Los Angeles. "As I have grown, I realize that I have always harbored a feeling of 'owing' the world for the all the blessings bestowed upon me in my life," said Claudia. To return our gratitude for Claudia's passion to contribute to the nonprofit sector, we are pleased to lend our support to strengthen her educational experience at CSUF. Thank you, Claudia, for to your commitment to education and to your professional calling.
2015 - Ualani Ho'opai '15
Master of Public Health
Ualani is one of the most mature, passionate, and articulate students and community health educators who, despite enormous financial challenges, is dedicated to becoming not only a successful master's student but also the most impactful Native Hawaiian scholar and activist for her community. Ualani worked with the Pacific Islander Health Partnership (PIHP), and non-profit community based organization in Santa Ana with the mission of promoting the health and wellbeing of Pacific Islanders in Southern California. At the time, Ualani was volunteering at PIHP while ending a long for-profit career in the apparel business. While financially successful, she was not personally fulfilled, and wanted instead to explore ways to give back to her Native Hawaiian community. At PIHP, Ualani discovered the many health needs of Native Hawaiians such as herself, and became highly interested in returning to school to increase her public health knowledge and skills. Initially afraid that she would not be a successful student, she took a Health Science program planning course through UEE and immediately impressed her instructor Dr. Michele Wood with her eagerness to learn and apply concepts to the real world. With minimal guidance, Ualani then applied and was successfully accepted into CSUF's Master's in Public Health (MPH) program. Since fall 2013, she has been a key member of her 25-student cohort, always one of the hardest-working and conscientious yet always generous and supportive. For instance, as a student in the required MPH core course, Advanced Health Promotion and Disease Prevention (HESC 540), she regularly asked questions and participated in discussions, reflecting her observations of chronic disease needs from her community, and ultimately earning a B+ in this academically rigorous course. Simultaneous to her studies, Ualani has been integral to the NCI-funded R01 study on increasing Pap testing among Pacific Islanders. In fall 2013 she joined the research team as a graduate research assistant, working 20 hours per week attending community research meetings, coordinating data collection and entry, conducting analyses and preparing community data updates. Such work is often very challenging for community research partners to understand and assist with, and Ualani's natural cultural respect for and communication with representatives from four nonprofit organizations has made her an essential member of this academic-community partnership. Furthermore, she has become very interested in the ways that culture and collaboration facilitate community-based health education, and conducted analyses resulting in a successful poster presentation titled "Cervical Cancer Screening Behaviors for Pacific Islander Women in Southern California." Currently she is also working on a manuscript of other data analyses applying Anderson's model of healthcare utilization to understanding the facilitators of Pap testing behaviors. Ualani is a joy to work with: quietly committed, thoughtful and kind. It is rare to find someone so devoted to her community that she is willing to give up financial stability for the insecurity of nonprofit and part-time research income, but Ualani is just that special. She is becoming a leading public health professional and scholar for Native Hawaiians in Southern California, and she will make enormous contributions to the future health and wellbeing of her community
2014 - Nicole Nishimura '17
M.S. – Counseling
Many Cal State Fullerton alumni can probably relate to this year's Nonprofit Professionals Award recipient, Nicole Nishimura, as she makes her mark in the community as a future counselor. With years of experience in nonprofit development, Nicole realized it was time to take her interests a step further and pursue a Master of Science in Counseling degree at Cal State Fullerton. "I'm really interested in working one-on-one with people. I want to make a difference at the micro level," said Nishimura when sharing her story about her decision to attend Cal State Fullerton to study counseling. "Cal State Fullerton has a great reputation and a lot of connections in the community." When Nishimura heard about the scholarship it also introduced her to the NP club. As the 2014 scholarship recipient, she is excited to know that she will graduate from Cal State Fullerton with a support system and network already in place through the club. Nishimura is funding her college education all on her own, so the scholarship makes a significant impact.
2013 - Jody Cajudo '15
Health Science / Asian American Studies
Nonprofit Professionals club board member Danielle Talentino Tuason '06 presented the 2012 Nonprofit Professionals Award to junior Jody Cajudo at the annual Community Engagement Awards ceremony on May 7, 2013. Cajudo will receive $1,000 to support her studies as a double major, and her intention to pursue a graduate degree in public health and higher education. She works as a youth specialist for Orange County Asian and Pacific Islander Community Alliance (OCAPICA), where she and fellow students in Dr. Tu-Uyen Nguyen's classes gained skills in community-based participatory research and policy development.
2012 - Joyce Chiao '12
Child and Adolescent Studies
Joyce is making great strides for a lasting impact on students providing them with a quality education. The 12th annual Nonprofit Professionals Award was presented to Child and Adolescent Studies major Joyce Chiao '12 at the annual Community Engagement Awards ceremony on May 1. The $1,000 award is funded by CSUF alumni to support and encourage fellow Titans considering careers in the nonprofit sector and/or in service. Founding club board member Ira Unterman '87 presented the award to Joyce.
2011 - Reanna Couts '11
History
Reanna Couts is actively creating her legacy with her commendable actions and career choice. She recently earned her Bachelors in History with honors in Spring 2011. She is also a recipient of the Nonprofit Professionals Alumni Club Award. Reanna most importantly, deeply values the power of education. She chose to major in History because it "allows us to see through the 'looking glass' not in black in white, but the varying degrees in between. We can better understand what motivates people, and repetitiveness of human history. In doing so, we have a much better chance at predicting varying outcomes, and can better understand present society," Reanna said.
2010 - Daniel Cole '10
Human Services
Founding board member Lori Redfearn '86 presents 2010 NPAC Award to Daniel Cole.
2009 - Nicole De Roche '10
Sociology/Gerontology
Nicole De Roche has a varied and interesting background in the nonprofit sector. This NPAA Award recipient is a junior Sociology major with a concentration in Gerontology. As a re-entry student, over the age of 40, De Roche feels fortunate for the opportunities offered at Cal State Fullerton. Having always enjoyed a small, team-oriented work environment, De Roche found herself drawn to nonprofit organizations. Her background includes teaching English oversees in Japan, and working with Women Helping Women, South Coast Repertory Theatre, and many others. De Roche says she was drawn to the nonprofit sector because she wanted her job to have meaning and enjoyed "seeing the passion of those she worked with." Unlike the corporate world, she found that she came across individuals at nonprofits who truly enjoyed what they did, and how important everyone felt, whether a volunteer or staff member, about the mission. Currently, De Roche holds a job with South Coast Repertory Theatre, where she works as a front office assistant. She has a wide range of responsibilities, and has experienced first-hand how nonprofits function and the role they play in our communities. De Roche also has been thankful for her NPAA mentorship with Don Laffoon, Executive Director of STOP-GAP, a nonprofit best known for its drama therapy work with seniors and school children. She says spending time with Mr. Laffoon was invaluable, and she was truly inspired by him and his organization. De Roche is also a volunteer with the Orange County Chapter of the Alzheimer's Association, where she is involved with the Interfaith Outreach Program, designed to connect those with the disease to special religious services. This fall she will begin an internship with the organization, where she will be able to utilize her gerontology training. Working with the nonprofit DOROT has already provided De Roche with experience interacting with the elderly population. As a volunteer instructor, De Roche teaches English to homebound, immigrant elders via the phone. She says, "I teach incredible people," and enjoys utilizing her skills and strengths to help others. She encourages other students to employ their talents and give back. What does the future hold for this promising student? It is wide open. De Roche is eager to begin the Master's in Gerontology program in spring 2010 and hopes to be accepted as a graduate student at Cal State Fullerton, to fully explore how she can make her mark in the field. "I keep finding doors opening for me," she says. Grateful of the resources around her, "I feel comfortable in trusting the process and seeing where it takes me."
2009 - Christine Hernandez '09
English
Christine Hernandez has worked as the Women and Gender Studies Center program coordinator at George Mason University since August 2010. Prior to Mason, Christine worked at the University of Maryland, Baltimore County and the University of Pennsylvania. During her time at both of these institutions, Christine worked with federally funded access programs aimed at promoting the success of first-generation and low-income students. She will be leaving George Mason University in early June to begin a new position as Manager of College/University Relations at the American Association of University Women.
Christine received a graduate certificate in non-profit management from George Mason University this spring. She earned her M.S.Ed. in Higher Education from the University of Pennsylvania in 2010 and her B.A. in English from Cal State Fullerton in 2009. This spring, Christine was named Outstanding New Professional by Region III of the National Association of Student Personnel Administrators (NASPA). Christine also received the Outstanding New Emerging Professional Award from the American College Personnel Association's Standing Committee for Women and the Outstanding New Professional Award from the American College Personnel Association's Standing Committee for Multicultural Affairs. In her free time, Christine is involved with her professional associations and serves on her graduate school's alumni advisory board. She currently lives in Washington, D.C. with her partner- who also happens to be a CSUF alumnus.
2009 - Dameion Renault '10
Human Services
Dameion Renault attends CSUF full time, and works part time for Orange Coast College as an EOPS Outreach Specialist where he speaks to at-risk and foster youth about higher education and programs that can help them achieve that success.  He also just finished an internship with Orange Coast College doing similar work, with the addition of the development of roundtable discussions with other community colleges and agencies involved with child development and participating in conferences dealing with foster youth.  There's more. Renault also is a full-time father to a four-month old baby boy, and in his "spare time" he fills much of his time outside of school with nonprofit agencies that work with at-risk youths and their families in aiding them through everyday life struggles. "I try to get out and reach many populations of economically disadvantaged students and families, as this is my passion," says Renault. Other students at www.caringshos.com provide free food, clothing and other daily essentials to any student in need, no questions asked. "I am a struggling student now, but have been even deeper into the poverty pool in earlier years," says Renault. "I know that many students struggle with the choice of whether or not they can stay in school or get out to work, often times working in something very meaningless to them." Renault's program offers a little bit of relief to those in need with some goods to get them through the week. He fully intends to have this program spread throughout Orange County and beyond, to offer a safety net to students whose struggles to make ends meet forces them to consider dropping their educational goals. The NPAA Award has helped Renault persevere in his goal to attain a degree from CSUF. "My goal to graduate is set and this money will give some relief to me and my family in the way of our financial burden while I attend school," says Renault. "It is a good investment, I promise."
2009 - Carmen Drummond '10
Communications / Political Science
Carmen Drummond is one NPAA Award recipient who stands on her own. She is a 21-year old student, daughter, sister and an active volunteer. Notably, she is a leader. Now in her senior year, she is expecting to graduate with a BA in Communications and Political Science in January 2010. Fueled with passion, she seeks to lead others by learning from her everyday hurdles. She has always sought to work in public service and continues to dedicate her life to serving her community and country. Carmen is
determined to become involved in issues that address low-income families. For instance, she wants to address the lack of decent affordable housing and empower low-income individuals via civic involvement. Her compassionate drive is one of the reasons why she has committed herself to serving the public and the nonprofit sector. Currently she is an intern for the Department of Homeland Security (DHS), U.S. Customs and Border Protection, where she has worked for the past 2 years. In 2008, as the Head Combined Federal Campaign Coordinator, she raised over $7,600 for the Orange County chapter. The money she raised provided assistance to nonprofit programs throughout Orange County and the country. In summer 2009 she will be interning and attending Political Science classes in Washington D.C. through CSUF's DC Scholars Program. Upon completion of her undergraduate studies, she plans to attend graduate school in the Washington D.C. area to pursue a degree in Public Policy. She says now that role model President Barack Obama is living in that vicinity, she knows that if she believes in herself -- even if others don't --  she can make it just as far! Indeed, she will make it far in life based on her fierce determination and commitment to higher education. She is her mother's daughter, after all, who stressed the importance of education and that nothing should let anything stop her from what she is truly passionate about. Therefore, attaining a PhD in Public Policy will give her the necessary knowledge and skills to conduct professional-level research in the field. Her career plan is to continue researching and finding new means of improving policy regarding low-income families  as well as youth and educational issues. She hopes to start a nonprofit to address the issues that affect low-income families. Most importantly, she would like to teach at the university level. 
2008 - Zakira Kalyan '08
Communicative Disorders
"You must be the change you wish to see in the world," by Mahatma Gandhi. Zakira Kalyan, an extraordinary recipient of this year's $1,000 Nonprofit Professionals Alumni Association Award, embodies these words of wisdom. She graduated cum laude in May 2008 with a Bachelor's degree in Communicative Disorders. Zakira is an active volunteer on-and-off campus. Some of her involvements include being a Sunday School Teacher for Zainabiyya Center, serving on a planning committee for the Social Justice Summit on campus, and being a motivating member of Campus Greens. She is humbled to receive the NPAA award and it has deepened her drive to continue being of service. The award will assist her in paying for graduate school in the fall, when she will pursue a Master's degree in speech language pathology communicative disorders from CSUF. Her goals are to invest her passion and time working for Operation Smile and similar nonprofit organizations. She would like to eventually open a speech clinic in Nairobi to assist community members with communication impairments. After all, Zakira's story begins in Nairobi, Kenya, where many nights were spent without electricity or sometimes without clean running water. She believes the reason she received the opportunity to move to the U.S. and achieve success is to use what she has learned and gained in order to help others who are underprivileged. She currently works for Think Together, supporting the organization's mission to provide high-quality, academically-oriented, after-school programs. Zakira also volunteers for St. Jude Medical Center's communication recovery program, working directly with adults who have communicative disorders. Catherine Moore, faculty member of the Department of Human Communication Studies, recommended Zakira for the NPAA award because, "Zakira is a person of integrity and has proven herself to be a very responsible, reliable and conscientious student." NPAA Awards are supported by contributions from alumni and others who want to encourage students like Zakira to pursue careers or service in the nonprofit sector. "I truly believe each of us is given the opportunity to use our talents and abilities to help others who are not so fortunate," said Zakira.
2007 - Angelica Haro '07
Kinesiology
Angelica Haro was named the recipient of this year's $1,000 NPAA Award, in recognition of her outstanding accomplishments and her goal to continue to make a difference in people's lives through her nonprofit. This outstanding student will graduate this summer with a Master's degree in Kinesiology. While working on her Master's, Haro held a job as a Health Educator at Worksite Wellness LA - a nonprofit organization that provides health access information to low-income employees in the downtown Los Angeles area. Not only does she work for a nonprofit, she also founded and is the Executive Director of Shoes For Sonrisas (Shoes For Smiles). "Last year, I decided to bridge charitable giving and health promotion by establishing Shoes For Sonrisas," said Haro. "Our mission is to provide gently worn athletic shoes to underprivileged individuals living abroad." As a 10-time marathon runner, Haro has gone through more than her share of running shoes. Runners replace their shoes frequently - often with plenty of wear left in them - while in training. So Angelica decided to collect gently worn shoes and put them to good use by redistributing them to people who have none. She adds, "Another important component to Shoes For Sonrisas is the health promotion piece, Healthy Soles. Healthy Soles is a program that promotes regular physical activity as well as offers quality health education to youngsters and adults alike in local, low-income communities." Haro's grassroots effort has been recognized at local City Council meetings, in newspapers and at major running events. The NPAA award will be of significant help toward her goal of  implementing a nutrition and physical activity program for youth this summer. When asked how she felt about receiving this award, Haro said, "This was a great feeling, being that this scholarship symbolizes exceptional leadership in the community. I am very grateful to the committee for being awarded such a great honor." Not only does she currently work for a nonprofit and has started her own nonprofit, Haro also has worked for several nonprofit organizations, including: the Anaheim Memorial Medical Center, Rancho Los Amigos National Rehabilitation Center, and the American Cancer Society. Haro looks forward to continuing to work in the health/fitness promotion and education fields. In October, she plans to become a Certified Health Education Specialist. In the future, she plans on obtaining a doctoral degree in Pedagogy to enhance her ability to develop, implement and assess quality health education programs for specific communities. "To students and other individuals, make your passion your profession and everything will fall into place! I did it and you can too!"
2006 - Elena Guzman '06
Health Sciences
Elena Guzman was named the recipient of this year's $1,000 NPAA Award, in recognition of her outstanding accomplishments and her goals of pursuing a nonprofit career. NPAA Board Member Charlene Mathe '82/'89 announced the award to a surprised and pleased Elena at the annual awards banquet of the Kinesiology and Health Sciences Department on May 1. This outstanding student is a Public Health major who will graduate this summer with a Master in Public Health. While taking a full course load, she also works full time and supports herself and her  mother. Her position at Planned Parenthood WIC (Women, Infants & Children) includes responsibility as one of two coordinators of a longitudinal research project exploring the effectiveness of a new group nutrition education class of WIC participants and their preschool children. As part of her graduate program she will complete an unpaid 240-hour internship. She reports that the NPAA award will be of tremendous help during that time. Her graduate research project is to identify barriers to and perceptions about breastfeeding among Latina clients of the WIC program. The findings of the research project will be implemented in producing an educational video for breastfeeding mothers. Elena participated in NPAA's mentorship program in Spring 2006. She was matched with Michele Silva `86 of Maternal Outreach Management System (MOMS) in Santa Ana, Elena's home town. Her experience at MOMS included orientations with several of the senior staff and department heads, observation of a home visit, and the agency's site visit from the County of Orange Health Care Agency. Elena's career goal is to take a leadership role in planning, implementing and possibly administering public health programs that will help improve maternal and child health. In a letter of recommendation supporting Elena's nomination, Michele writes, "As a fellow Titan, I am proud to recommend Elena Guzman for the NPAA Award...Elena is incredibly bright and ambitious. I was impressed by her knowledge of nonprofit organizations and her commitment to working with underserved and at-risk communities." Elena writes, "I just wanted to thank everyone who is on the NPAA scholarship committee for selecting me as the scholarship recipient. It is truly an honor to be the award recipient. This scholarship could not have come at a better time. I recently found out that I was selected by Hispanic Association of Colleges and Universities (HACU) to participate in their internship program. I will be leaving in June to Tampa, Florida and will be working at the VA Hospital for 10 weeks.
2005 - Fernando Mallory '06
Human Services
2004 - Nancy Nguyen '05
Human Services
Nancy Hieu Nguyen is driven and engaged in the nonprofit sector because of "human compassion." She notably practices her passions and concerns, through activism on-and-off campus. She is the 2004 Nonprofit Professionals Alumni Association scholarship recipient and plans to graduate Cal State Fullerton with a B.S. in Human Services and minor in Criminal Justice by Spring 2005. The words she lives by: "There will never be another now, so I'll make the most of today...There'll never be another me, so I'll make the most of myself," by Robert H. Schuller. Her commendable efforts include being an active volunteer, a primary caretaker for her family, while excelling in academics. Nancy intends to pursue both a law degree and an M.S.W. in Social Welfare. This young and confident woman aims to dispel the stereotype of the cold-blooded attorney. "I have purpose, passion and enthusiasm to bring into this profession. My purpose is to help people, utilizing the law to advocate for the most vulnerable populations in need of aid. I want to put my heart into my work and achieve a sense of fulfillment by knowing that I am making a positive difference," she said. Nancy was first introduced to the NPAA by attending a day-long series of seminars on Public Service and Nonprofit Leadership, offered through the Student Leadership Institute. She envisions satisfying her purpose by working in the nonprofit and public service field, interacting with organizations and the client populations that they serve. It is students like Nancy -- who live their lives as a model for others – who keep NPAA's mission alive. NPAA consists of CSUF alumni employed or active in the nonprofit sector who have an interest in supporting the University and encouraging students and entry-level professionals to serve the nonprofit community. As a graduate of the Public Service and Nonprofit Leader ship certificate in the Student Leadership Institute, Nancy acknowledges the value of the program. She explains, "There is only so much you can learn from a text book versus when you are experiencing it. It [allows me to focus] that much more on what I am learning and it gives me much more passion." Her hands-on experiences include an internship with the Women's Center, a facilitator for both the Gender Alliance Sexual Assault Prevention Program and The Women of Color Asian/Pacific Islander Discussion Group, as well as an active membership with the Human Services and Vietnamese Student Association. Off campus, she has been involved with THINK Together and St. John the Baptist Church, and is currently volunteering for UCLA School of Law Fellows Outreach Program and Community Services Program. She encourages students to take the initiative and to put themselves out there. For instance, to get involved in service-oriented clubs on campus, sign up for a student leadership program or apply for scholarships. As part of the PSNL track, Nancy was assigned a professional mentor in the field of her interest. Scott Wylie, Associate Dean of External Affairs for Whittier Law School, recognizes Nancy for her thirst for a challenge. He believes she has excellent promise for the nonprofit field.
2003 - Leslie Marlephansakul '03
Health Science
Leslie Marlephansakul was named the recipient of the third annual $1,000 NPAC Award in May 2003. Marlephansakul is an active volunteer in the community and a senior who graduated in Spring 2003 with a BA in Health Science. Leslie completed the "Nonprofit Organizational Leadership" certificate offered through Student Leadership Institute (SLI). Leslie found the SLI workshops to be very helpful and recommends that other students participate in this program. Leslie said that her most rewarding experience has been her "hands-on" experience with the nonprofit professionals. She completed an 8-hour mentorship with NPAC board member Mary O'Connor Harris, Executive Director of FACES (Family Assessment Counseling & Educational Services). Leslie didn't know where she was going when she started college and now she feels as though she has some sense of direction. Among her many nonprofit experiences while attending classes at Cal State Fullerton, volunteered at the California Council of the Blind, United Methodist Church, and St. Jude Medical Center. In her junior year she performed community service at Woodcrest Elementary School as a service-learning component of her nutrition class, KNES/HESC 350. Leslie's career plan is to work for a nonprofit organization that deals with health-related worthy causes. After sitting for the Certified Health Education Specialist (CHES) exam, she plans to get an entry-level position in the field of health. She would like to work for a nonprofit organization that deals with health-related issues and is exploring the American Red Cross, Amnesty International and the Salvation Army as well as the Peace Corps. She also intends to earn a Master of Public Health degree to help her better serve those in need of health care assistance. As for winning the NPAC scholarship, it was a nice surprise.  After hearing the good news, she said, "I think of a good cause when I think of nonprofits."
2002 - Reena De Asis '02
Communications
2001 - Stephanie Lomibao '03
Public Administration
"Club Presents its First Award" -- One of the highlights of the annual meeting of the CSUF Nonprofit Professionals alumni club in June 2001 was the presentation of the club's first $1,000 scholarship. The scholarship was created by members of NPAC to encourage students to pursue careers in nonprofit organizations. The first recipient of an NPAC scholarship was Stephanie Lomibao. The President's Scholar is now in her junior year and expects to graduate in May 2003 with degrees in marketing and public administration. While pursuing dual degrees Stephanie maintains a 3.83 grade point average and an average courseload of 19 units. In addition to her part-time position as the accounts payable assistant for the University Advancement Foundation, she is serving second consecutive one-year terms as the student representation on the UAF board, and as Treasurer of President's Scholars. Stephanie plans to put her knowledge about nonprofits to work by pursuing a career in corporate philanthropy. "What I've learned through the Student Leadership Institute helped me to focus my goals on the nonprofit sector," she said. "The NPAC scholarship reinforced my passion for this work, and gave me a sense of confidence and clarity about what I want to do." The passion is authentic for this involved and accomplished young woman. Among the community service activities she and fellow President's Scholars have organized, her favorites have been a Thanksgiving feast for families at the Ronald McDonald House, and an "adopt-a-family" project at Christmas. Students plan all aspects of the projects, including raising funds, procuring donated items, selecting, wrapping and delivering gifts, and preparing meals. Stephanie squeezes such activities into a schedule already filled with roles on the Honor Student Advisory Committee and the Student Leadership Institute Coordinating Committee. It is no wonder that this outstanding student was selected as Cal State Fullerton's nominee for the prestigious Truman Scholarship, a $30,000 graduate school package awarded to 80 students. Stephanie took an unheard-of break from studies during March to fly to Denver to be interviewed as a finalist in the national competition. Although she was not selected as a recipient, her plans for graduate school and beyond continue to burn bright. The eldest of four children, Stephanie is expecting a new roommate soon. Her sister, Melanie, will become a Titan in the fall and hopes to become a doctor. Watch out for these two: they are sure to make an impact on the world!