Class Gift
Class of 2020, this is your graduation year and after graduation your presence on campus will be missed. Today, you have the opportunity to leave a lasting legacy at CSUF. Contribute to the class gift today and your contribution will transform into a gift for future generations of Titans to enjoy. A monetary gift of any size is welcome.
Donate to Class Gift

LEGACIES IN PLACE
From class gifts to legacies left by large donations, Cal State Fullerton has been built through the generosity and dedication of Titans across generations. Check out some of the different areas of campus that have been made possible through donations both large and small.
View Philanthropy Map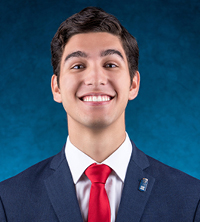 Message from Associated Students, Inc. (ASI) President

Dear fellow Titans,


As we approach the close of our respective journeys at this incredible institution, I wish to remind you of the remarkable opportunity you have to impact future Titans of our campus community long after you have graduated. In reflecting upon your time as a Titan, I am confident many marvelous memories, friendships, and experiences come to mind. These moments and other milestones are made possible by the continued commitment of our amazing alumni towards helping all Titans of the past, present, and future in reaching higher towards their aspirations; this year, you and I have the opportunity to become a part of this greater effort.


For years, kind and considerate Titans seeking to leave one final monumental mark to support students on our campus, have seen their generous contributions support a myriad of different campus projects. Campus projects ranging from scholarships across our eight academic colleges to supporting our campus basic needs initiative that assists students experiencing financial hardships. From a generous $5 donation to a fitting $20.20 or even a Tuffy-terrific $57, there's no shortage of ways you can give back as we near ever closer to celebrating your spectacular achievement.


I have no doubt that the resources and support provided by previous class gifts have positively impacted you or another Titan you may know. Let us reflect on the words of Nelson Henderson, who wrote that "the true meaning of life is to plant trees, under whose shade you do not expect to sit." With this class gift my fellow future graduates, we have an exciting chance to plant those trees of opportunity that will provide those same marvelous memories and experiences to future Titans that we may never meet. I hope you consider taking part in this one final Full-anthropic effort to create a finer future for our campus community and wish you the best of luck in these last few months and in your incredible achievements that are sure to follow.


Thank you and Tusks Up,

Aaron Aguilar
ASI President '19 – '20
History
Formally established in 2014, the Class of 2014 had 464 students and one faculty member who participated in gifting $2,822 to the University. That money purchased outdoor seating for a newly landscaped space between the TSU and the State College Parking Structure. Prior to that, there has been only one other class gift on record, the Class of 1999 gifted the flagpoles at the Becker Amphitheater. Since that time the class gift has continued to grow. The Class of 2017 has been the largest class so far with 2,480 donors contributing over $13,000. We hope that you will join members of your class in supporting the Class of 2019 gift campaign.