Alumni Association Membership
From the heart of our current student body radiating out to the far reaches of our global community – we are a network of Titans – powerful and influential as individuals, but together we are family of giants!
Become a Member
Join the Cal State Fullerton Alumni Association for the one-time lifetime rate of $149 per person. Your purchase includes your Lifetime membership with unique privileges and access to resources as well as a 20% contribution to the Alumni Association scholarship fund.
Join the Alumni Association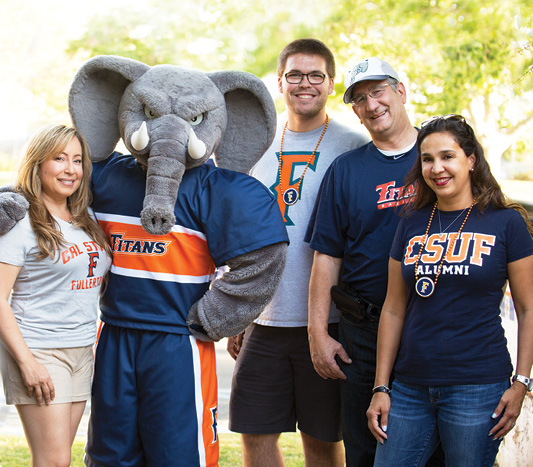 2020 GRAD LIFETIME MEMBERSHIP ($57)
Enjoy a special discounted lifetime membership rate of $57. Your membership purchase includes an Alumni Tote with a unique CSUF alumni license plate frame, a $5 class gift contribution, and discounts galore! Offer expires June 30. Purchase before this deal expires. This offer cannot be redeemed after the expiration date, no exceptions.
Grad Membership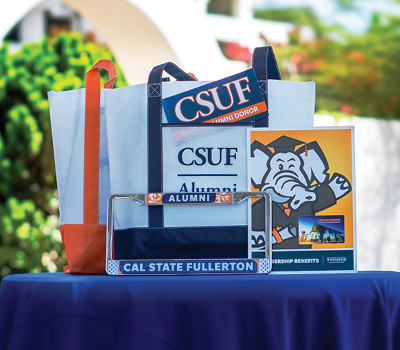 On-Campus Benefits
INVITATIONS TO ALUMNI ACTIVITIES
Members receive invitations to special Alumni Association events like Homecoming, Night of the Pachyderm Baseball Tailgate, regional outings and Dinner with 12 Titans.
TITAN ALUMNI CARD
Members show their Alumni Association membership card at the Titan Card center in the library and receive a free Titan Alumni Card. The card is used for checking out books at the library.
FREE PARKING
Come back to campus to attend an event, use the library or request your transcripts. Members receive three on–campus, parking vouchers redeemable at the Parking & Transportation Center for a full-day pass. Each pass may only be used once and is valued at $8.
ACCESS TO ALL 23 CSU LIBRARIES
Members can get a Titan Alumni Card and check out books from the Pollak Library. Present your card at other CSU libraries and receive check out privileges at that campus, too. Learn more about how you can use your alumni library benefits atlibraries.calstate.edu .
Note: Access to online journals and research data bases are currently only offered on site at CSU libraries. Remote access is not included in this membership benefit at this time. 
INTRAMURAL SPORTS
Alumni Association members can participate in Titan Recreation Intramural Sports! Sport leagues and tournaments are available in a wide variety of indoor and outdoor sports year round. Only alumni who are current CSUF Alumni Association members may register for a team.
BUY ONE, GET ONE FREE AT TITANS ATHLETICS HOME GAMES* DURING THE 2019-2020 SEASON
Take advantage of buy one General Admission ticket, get one General Admission ticket FREE to Titans Athletic regular season home games.* Must show your Alumni Association membership card and photo I.D. at the Box Office on game day to purchase your tickets and take advantage of this offer! Maximum of 8 tickets.
*Offer good for General Admission tickets ONLY. Not valid for Homecoming and the Judi Garman Classic Tournament.
EXTENSION AND INTERNATIONAL PROGRAMS
Members receive a $50 discount on one non-credit continuing education course offered through Extension and International Programs

. Note: This offer applies to most non-credit courses and to those with a fee of $125 or more; one course per membership.
STUDENT RECREATION CENTER
Alumni Association members can save on annual membership fees to the award-winning Student Recreation Center at Cal State Fullerton. The $40 million, 95,000 sq. ft. center has opened its doors to the CSUF community. SRC Facilities include:
Rockwall and Boulder
Outdoor Pool
Racquetball Courts
Dedicated Indoor Cycling Room
2 Group Fitness Studios
Martial Arts Dojo
3 Court Gymnasium
Indoor Running Track
Rec Center Pool
7,500 sq ft Free and Selectorized Weight Room
7,500 sq ft Cardio Floor with Personal Entertainment Screens and More!
Alumni Association members may join the SRC for the following reduced rates:
Annual Contract: $300
Per academic semester: $120
SRC membership also includes approximately 40 hours of drop-in fitness classes and membership rates for fee-based services such as personal training. Call Titan Recreation now at: (657) 278-PLAY or come visit us at the Student Recreation Center, 2nd floor.
Discounts & Services 
AUTOMOBILE CLUB OF SOUTHERN CALIFORNIA
The $20 new member initiation fee is waived for Alumni Association members. For more than 100 years, Automobile Club of Southern California (AAA)

has been helping its members on the side of the road. AAA's legendary Roadside Assistance will cover you within the U.S. or Canada in any car, SUV or pickup truck, at any time, day or night, even if you are the passenger. You can save more than the cost of your membership every year by taking advantage of AAA Discounts for dining, shopping and family fun, with access to the full-service AAA Travel Agency and much more. Alumni Association members must present their membership card to an agent in order to confirm eligibility.
GEICO
The CSUF Alumni Association has partnered with GEICO to save you even more on car insurance with a special alumni association member discount. GEICO offers low rates, exceptional 24-hour customer service and high-quality auto insurance to over 15.5 million policyholders in the United States. In addition to car insurance, GEICO can help insure your motorcycle and the GEICO Insurance Agency can help you with homeowners, renters, condo, boat insurance, and more. For your free rate quote visit geico.com/alum/csuf

, call 1-800-368-2734, or visit a local GEICO office to find out how much you could save today! Be sure to mention your Cal State Fullerton Alumni Association affiliation to be eligible for the special discount on auto insurance.
STUDIO 94 PHOTOGRAPHY
20% discount on photos ordered by CSUF Alumni members
Free family portrait sitting, excludes photos (a $35 value)
Please visit studio-94-photography.com

for details.
TITAN SHOPS
Receive a one–time 20% discount on CSUF emblematic merchandise. Coupon valid in-store only and must be presented at time of purchase. Visit Titan Shops website.
CENTER FOR ENTREPRENEURSHIP
Save 10% on CSUF High Quality Business Strategies Designed for Today's Economic Climate! A student team will provide detailed analysis of your business, thorough research and a useful project report tailored to individual client needs. Areas of expertise include: Accounting Practices, Business Strategy, Financial Evaluations, Marketing Analysis, Operations Management, and Organizational Management. Visit the Mihaylo College of Business and Economics Center for Entrepreneurship for more information.
MERCER-HIGH QUALITY INSURANCE PLANS
As a CSUF alum, you can take advantage of special rates and discounts for life and health insurance through Mercer Consumer, a service of Mercer Health & Benefits Administration

LLC, and well-known providers. This means you can secure essential protection worry-free.