DESTINATIONS
for Young Alumni Travel
December 29, 2018 - January 2, 2019: News Year's Eve on Cloud 9 (Austria)
April 27 - May 3, 2019: Destination Dubai
June 20 - 23, 2019: Iceland Expedition
July 14 - 21, 2019: Portugal Adventure
August 7 - 11, 2019: Costa Rica Eco Explorer
September 23 - 29, 2019: Hops, Grains & Slainte (Ireland)
October 21 - 27, 2019: Captivating Croatia
Young Alumni Travel Program
The Cal State Fullerton young alumni travel program brings you together with individuals in the same age range and similar backgrounds, while providing enriching experiences on well-designed and hassle-free tours of the world. Choose from three exciting destinations left in 2018! You will travel with young CSUF alumni and friends of peer institutions who graduated within the last 10 years. These programs provide social, cultural, and recreational activities, plus many opportunities for learning enrichment. The trips provide terrific quality and value, and they are operated by a travel company with over 40 years of experience in the young professional travel market. Make your plans now to re-connect with fellow Titans while traveling the world!
If you have any questions about our young alumni travel program, please contact our tour operator by emailing: alumni@aesu.com or call 800-638-7640.
---
Classic Europe Grad Trip
England |France | Italy | Vatican City | Greece

Each year a group of 40-50 graduates participate in the annual grad trip to Europe coordinated by the Alumni Association. Students continue to say amazing things about their experience. This is now open to 2019 grads (and grads up to 3 years out of university) for May 27 - June 6 (Rome return)  or  June 11 (Athens return) .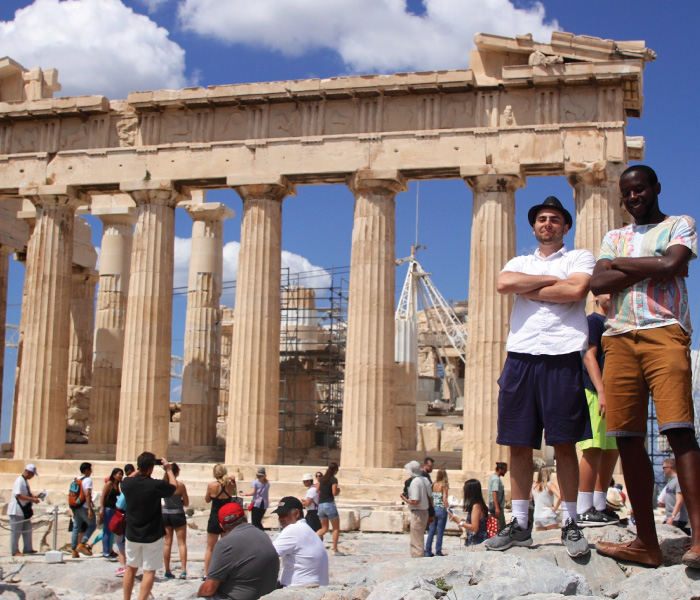 Not convinced yet? Here are what some of our past graduates have said: 
Having the chance to go on AESU Euro Trip was amazing. It was the best way to celebrate graduation and kick-off summer. I met the most amazing people on this trip and made wonderful memories. I would, with no doubt, recommend this trip for anyone thinking about traveling to Europe.
- Jennifer Chavarriaga '13 
I had the time of my life!
- Marlene Cuevas '14 
Celebrating graduation with the AESU Euro trip was a decision I could never regret. Traveling with AESU was safe, convenient, and an absolute blast! I was able to meet some amazing people and make incredible memories. If you're thinking about traveling to Europe, don't think twice and say yes to an adventure you will never forget!
-Madison Gorgone '13